02272 - Cori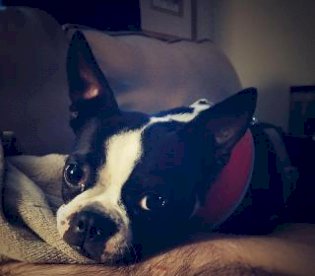 ID: 02272
Name: Cori
Sex: Female
Breed: Boston Terrrier / Boston Terrier / Pure Breed
Age: 3 years
Weight:
Good w/Dogs: Yes
Good w/Cats: Unknown
Good w/Children: Yes [6+]
Housetrained: In process
Requested Donation: $350.00
Due to the amount of applications on this girl we are no longer accepting applications for her. We will be reviewing and contacting applications that are a fit for her. Please consider another one of our current adoptables. Thank you!
Cori is a 3 year old Puppy Mill survivor, she came to rescue because she had a prolasped uterus which has sinced been removed. Her recovery has gone very well and through it all she has remained very sweet and loves to cuddle with her foster Dad. Cori is working in her house and leash manners and is crate trained. She is good with other dogs and shows no interest in the newborn kittens her fosters are hand feeding; however their is no adult cat in the home to gage her reaction to active cats. Young children seem to make her a bit nervous but she will go up to them. For saftey we are recommending calm, respectful kids over 8 at this time. Cori would love a quiet home where she can blossom and be loved as a family companion forever.