01294 - Bo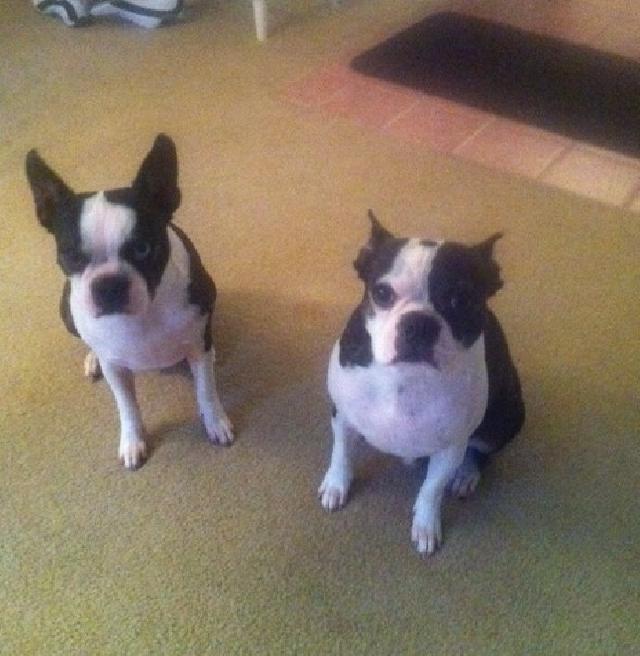 ID: 01294
Name: Bo
Sex: Male
Breed: Boston Terrier / Boston Terrier / --Select--
Age: 5 Years
Weight: 20 lbs
Good w/Dogs: No
Good w/Cats: No
Good w/Children: Yes
Housetrained: Yes
Requested Donation: $400.00 for BOTH Bo & Buddy
Bo & Buddy are 5 year old Brothers who have spent their entire life together. Their owner had fallen ill and a network of volunteers began working to stop Bo & Buddy from being taken to a high kill dog pound down south. This dog pound only allows stray dogs 5 days for their owner to come claim them or for a new family to arrive for them, owner surrenders can be euthanized the same day they enter the shelter. That couldn't happen to this handsome duo! We heard their plea for help and stepped up offering them a safe place and a promise to find them a wonderful forever home.
Once we met Bo & Buddy it became very clear that splitting up these 2 beautiful boys would be impossible. They adore eachother and if their foster dad takes one for a walk and leaves the other behind, they cry. After losing their home and family, they really deserve to keep eachother. Bo & Buddy are both perfectly housebroken and very friendly. They would do best as the only 2 pups in the house. We are not sure how they would receive cats, but no cats would very likely be best. They would do fine in a home with teenage children, but no small children. They are both extrememly loving, crate trained and well behaved. All Bo & Buddy need is a forever home!
Because Bo & Buddy go together like Peanut Butter & Jelly, we're offering a special reduced adoption donation of $400.00 for the pair. If you'd like to adopt this beautiful pair, please complete an adoption application on our website. Gentlemen like Bo & Buddy never stay in rescue long!