00714 - Elmer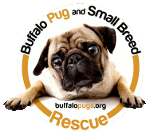 ID: 00714
Name: Elmer
Sex: Male
Breed: Pug / --Select-- / --Select--
Age: 15 weeks
Weight: 5 lbs.
Good w/Dogs: Yes
Good w/Cats: Unknown
Good w/Children: Yes
Housetrained: In process
Requested Donation: $250
Click on Elmer's picture to see more of him!
Click here to display Elmer's intake record.
UPDATE!
Elmer had his surgery on April 22nd to remove the twisted leg and repair his nostrils so he can breath better. We will update on his progress as he heals! Elmer is healing well and is now ready to start shopping for his forever home. If you are interested in adopting him, please submit your application online for him!
This sweet little puggy boy is Elmer. He was happily rescued from a horrible puppy mill and we are going to work hard to raise all the money needed to help this little guy lead a long happy life.
Elmer has a birth defect that has made his one front leg deformed and of no use to him. We have our vet specialists looking at him to decide how best to deal with this leg so that Elmer can have as normal a life as possible. It does appear though that the best remedy will be to remove the leg entirely. He also needed to have an ultrasound done of his brain to see if he has problems inside his head. We are thrilled to report that the ultrasound showed that his brain is completely normal. Elmer also has a condition called Stenotic Nares, where his nostrils are too pinched, not allowing him to get enough air through his nose.
Elmer is going to need to undergo at least one surgery for the front leg and possibly others for his other knees. We are now trying to raise the needed funds to help this sweet little guy. Please click on his donation meter below and help Elmer! Elmer is being fostered in Buffalo.
Can't adopt Elmer, but want to help him and others like him? Click the button below to sponsor Elmer today!
Elmer has been ADOPTED!