00579 - Dodge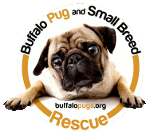 ID: 00579
Name: Dodge
Sex: Male
Breed: Pug/Beagle mix / --Select-- / --Select--
Age: 12 weeks
Weight: 11lbs
Good w/Dogs: Yes
Good w/Cats: Unknown
Good w/Children: Yes
Housetrained: In process
Requested Donation: $250
Click on Dodge's picture to see more of him!
Click here to display Dodge's intake record.
Dodge, Ram Tough! Sorry to sound like a commercial, but the name fits the Puggle. Dodge is the same age as several of the other Puggle boys, but he outweighs all of them. This pudgy little pup is hardy and healthy and ready to go home!
Dodge is adorable, sweet and very loving. He thinks everyone is just the greatest, especially if they will give him a little attention and loving. Any family would be blessed to bring this guy home. If you would like that to be you, submit your adoption application for him today. Dodge is being fostered in Buffalo.
Can't adopt Dodge, but want to help him and others like him? Click the button below to sponsor Dodge today!
Dodge has been ADOPTED!