00555 - Buffett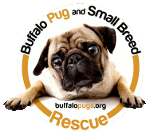 ID: 00555
Name: Buffett
Sex: Male
Breed: Pug/Beagle Mix / --Select-- / --Select--
Age: 6 mos.
Weight: 12 lbs.
Good w/Dogs: Yes
Good w/Cats: Unknown
Good w/Children: Yes
Housetrained: In process
Requested Donation: $250
Click on Buffett's picture to see more of him!
Click here to display Buffett's intake record.
Hi, my name is Buffett! Supposedly after some guy named Jimmy, but I never met him. My birthday is May 27th I am 6 months old. I am chewing a lot because I am losing my baby teeth. I am crate trained and almost house trained. My favorite toy is my Winnie the Pooh Ball. I LOVE to go on walks and do not like car rides. I am obsessed with water. I like baths. I am AFRAID of many things and will bark or whine if I am upset by them. I am VERY energetic and need lots of exercise. I can do tricks for treats. I LOVE bones, but I hide them and forget where I hid them. I am very loveable. I am good around other dogs but have never been around cats. I jump on people and should be monitored around small kids because I overpower them. I have been through 7 weeks of obedience training but my trainer says I need a bit more work. I was born with a cherry eye and have had 2 surgeries to fix both eyes. I will need drops in my eyes until they heal. I have been recently neutered and have all my shots.
My family hated to see me go but due to some finanical hardship they could no longer keep me. I am also too energetic for their young children. Do you have a home that's just right for a young, active boy like me? I'd love to have a nice, fenced in yard to run around in and maybe some older kids or other active dogs who can play with me. Please apply today to adopt me. If you want to meet me, drop these nice rescue people an email and maybe they can bring me to meet you at the new Rochester Adoption Center on Saturdays and Sundays, 12-4 p.m.
Can't adopt Buffett, but want to help him and others like him? Click the button below to sponsor Buffett today!
Buffett has been ADOPTED!