00523 - Chalupa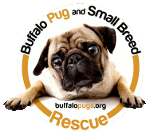 ID: 00523
Name: Chalupa
Sex: Female
Breed: Pug / --Select-- / --Select--
Age: 5 years DOB 06/14/06
Weight: 15 lbs
Good w/Dogs: Yes
Good w/Cats: Unknown
Good w/Children: Yes
Housetrained: In process
Requested Donation: $250
Professional Photo Donated By
Furtography
Click on Chalupa's picture to see more of her!
Click here to display Chalupa's intake record.
This sweetheart of a puggy girl is Chalupa. She was a puppy mill baby machine and is now looking for her place in the sun. She is working on her house manners and is doing very well so far.
Chalupa is a typical puggy girl who craves the life of a lap doggy. She just loves people and wants to be near you. If you want to be totally adored and think you have enough love to adore her back, please fill out and submit an online adoption application for Chalupa.
Can't adopt Chalupa, but want to help her and others like her? Click the button below to sponsor Chalupa today!
Chalupa has been ADOPTED!