00436 - Pumpkin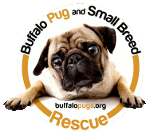 ID: 00436
Name: Pumpkin
Sex: Female
Breed: Pug / --Select-- / --Select--
Age: 7 Years
Weight: 26 lbs.
Good w/Dogs: Yes
Good w/Cats: Unknown
Good w/Children: Yes
Housetrained: Yes
Requested Donation: $250
Click on Pumpkin's picture to see more of her!
Click here to display Pumpkin's intake record.
Pumpkin and her brother Fido have been together since birth. Sadly their people have to move to an apartment and can't take them along. This is enough of a traumatic experience for them, so we insist on keeping them together. Pumpkin is extremely bonded to Fido and looks for him as soon as he goes out of sight. She is very loving and playful and gets along well with everyone. They are both housetrained and crate trained, but insist on being crated together. Pumpkin is a little overweight and is on a diet. She seems to have a little trouble with stairs so hopefully losing a couple of pounds will help with that. Otherwise they are both in good health and full of spunk.
We know that it's alot to ask to have someone who is willing to adopt two at the same time, but we are sure that the perfect person is out there just waiting for these two sweethearts!
Can't adopt Pumpkin, but want to help her and others like her? Click the button below to sponsor Pumpkin today!
Pumpkin has been ADOPTED!