00431 - Bumper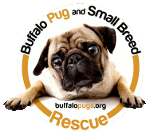 ID: 00431
Name: Bumper
Sex: Female
Breed: Pug / --Select-- / --Select--
Age: 10-12 Weeks Birthday January 17, 2006
Weight: 5 Lbs
Good w/Dogs: Yes
Good w/Cats: Yes
Good w/Children: Yes
Housetrained: In process
Requested Donation: $250
Click on Bumper's picture to see more of her!
Click here to display Bumper's intake record.
This little cutey is Bumper. Her and Thumper came to us together and both have knee problems. Bumper's had very mild luxating patella in one knee (click
here
for more information about luxating patella) and she does not need the surgery that Thumper needs because this is a case that is likely to be grown out of. Bumper is a silly little girl that has a more alpha personality that Thumper (check out the picture in the gallery where she is standing on poor Thumper's head!) She is fun and loving and makes many people laugh! She likes to play with other dogs and humans and just wants to find that loving, warm home to call her own. Can you give Bumper what she needs in a home?
Can't adopt Bumper, but want to help her and others like her? Click the button below to sponsor Bumper today!
Bumper has been ADOPTED!