00430 - Thumper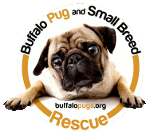 ID: 00430
Name: Thumper
Sex: Female
Breed: Pug / --Select-- / --Select--
Age: 10-12 Weeks
Weight: 5 Lbs
Good w/Dogs: Yes
Good w/Cats: Yes
Good w/Children: Yes
Housetrained: In process
Requested Donation: $250
Click on Thumper's picture to see more of her!
Click here to display Thumper's intake record.
UPDATE - 8/30/06!!
Thumper (now known as Piper) has received her medical "release" and is now adoptable! This sweet little lady has won the hearts of many and we are so happy that she can now find her forever home and begin her life anew!! She still walks a little different than normal, but this is expected to go away. Check out her new pictures in her gallery to see how she's grown. If you want information on Piper and her condition, please email Sandy at
smartin2000@adelphia.net
.
UPDATE!!
Thanks to the generosity of the many people who have donated to enable us to have the surgeries for Thumper and Pearl, and the AMAZING large donation from a wonderful angel named Erika Brown, their surgeries are now scheduled for August 3rd. Thank you doesn't begin to cover how grateful we all are for the caring shown for these two pug girls. We will update after they have recovered!
Meet Thumper... this girl seriously needs your help! She is suffering from the worst case of luxating patella in both of her hind legs (click
here
for more information about luxating patella) making it very difficult for her to walk. Due to the severity of the condition, she needs surgery in the worst way and will not be adopted out until she has it and recovers. As you can imagine, being as young as she is, surgery will be more expensive and certainly riskier than it would be otherwise. We have been told the surgery would be upwards of $2000.00 and of course we need as much help with that as we can get in order to keep our rescuing efforts going. If you can help us help Thumper, please click the donation button below and become her sponser today! Both Thumper and us thank you all from the bottom of our hearts!
Can't adopt Thumper, but want to help her and others like her? Click the button below to sponsor Thumper today!
Thumper has been ADOPTED!