00408 - Mango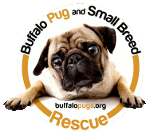 ID: 00408
Name: Mango
Sex: Female
Breed: Pug / --Select-- / --Select--
Age: 10 Wks
Weight: 6 Lbs
Good w/Dogs: Yes
Good w/Cats: Unknown
Good w/Children: Yes
Housetrained: In process
Requested Donation: $250
Click on Mango's picture to see more of her!
Click here to display Mango's intake record.
UPDATE!
It's hard to believe that this is the same pitiful little puggy that came to us, but it is!!! Mango is now completely mange free and ready to go home. The new pictures are proof of what love and medical care can do. Thanks to everyone who donated to Mango's care and sent heartfelt prayers for her recovery. It helped immensely and the proof is in the puggy! Interested applicants can email to carlise@buffalopugs.org.
This poor little 10 week old baby is Mango. She came to us from a puppy mill where we had to basically beg to get them to release her to us so that she can be treated for demodex mange. As you can see, she is in pretty rough shape. Her sister and mother are suffering from the same illness at this time and the breeder has yet to give them up, nor is he treating them for it. We are working hard to get them out of there too, so pray that we can succeed. Demodex is treatable, but takes time and persistence to overcome. Little Mango is undergoing treatment now and we need everyone to pray for her as she works through this rough time. We are doing research into how to best help her poor, weak little immune system get beefed up and help her fight off this horrible condition. Your support is much appreciated! Thank you!
Can't adopt Mango, but want to help her and others like her? Click the button below to sponsor Mango today!
Mango has been ADOPTED!