00400 - Annie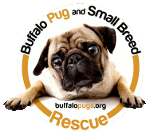 ID: 00400
Name: Annie
Sex: Female
Breed: Doxie/Beagle Mix / --Select-- / --Select--
Age: 2 Yrs
Weight: 15 Lbs
Good w/Dogs: Yes
Good w/Cats: Unknown
Good w/Children: Yes
Housetrained: In process
Requested Donation: $250
Click on Annie's picture to see more of her!
Click here to display Annie's intake record.
Well our little Annie and her two baby girls are now ready to be adopted. Annie is a great little girl and has been a good mommy, but she has done her motherly duties and is ready to start her life as some lucky human's baby. If that lucky person could be you, please submit your online application and email j9@buffalopugs.org.
UPDATE! 3/16/06
Annie's puppies have arrived! The poor little girl had a very, very hard time and only two of the four pups made it. The two that survived were very large and breach, so we are extremely proud of her and her foster mom, Jeannine, for the difficult night they suffered through. She ultimately had to go into the vet for a C-section too, so she has been through alot! Annie and the pups (and Jeannine!) are now resting comfortably and we will update with photos soon.
Annie was a stray who was walking the town with her sister Abby. Unfortunately for Annie, she was promiscuous and landed herself pregnant. She will be delivering her kids soon, but in the meantime, she is not available for adoption. We have her on the site so that you can look at her and admire her beauty. This gorgous girl will certainly need a home soon, as will each of her pups which are sure to be just as cute as she is. If you would like to express interest in Annie, please do so soon because we know she will not be around long after she weans.
Can't adopt Annie, but want to help her and others like her? Click the button below to sponsor Annie today!
Annie has been ADOPTED!