00364 - Diva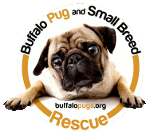 ID: 00364
Name: Diva
Sex: Female
Breed: Pug / --Select-- / --Select--
Age: 3 Yrs
Weight: 18 Lbs
Good w/Dogs: Yes
Good w/Cats: Yes
Good w/Children: Yes
Housetrained: Yes
Requested Donation: $250
Professional Photo donated by
Visual Works Studio
Click on Diva's picture to see more of her!
Click here to display Diva's intake record.
This little, or should we say, big cutie is Diva. As you can see from her picture, she does live up to her name. Diva is a 3 year old purebred pug who was locked away in a puppy mill cage for most of her life and used as a breeding machine. We were quite happy to be able to get her out of there where she can learn to live life like a normal family pet. Diva has much learning to do yet as she still seems to feel most comfortable hiding in a crate than being out and about and socializing with everyone and everything. She has been with us for about a week and a half now and has just begun to get acquainted with things she still knows nothing about. We think that Diva will make someone a very special pet and we hope that you will want to take part in showing this girl all of the things she has been missing in life!
Diva was adopted and has been returned to us. She has allergies and her person was unwilling to continue to work with her diet. We have been able to control her allergies with diet, and she does very well as long as she is kept on a good, wheat-free diet. Diva deserves to have a wonderful home of her own where she will never have to worry again. If you can give her that, please submit your application for her today. Diva is being fostered in Buffalo.
Can't adopt Diva, but want to help her and others like her? Click the button below to sponsor Diva today!
Diva has been ADOPTED!