00321 - Peaches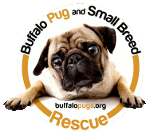 ID: 00321
Name: Peaches
Sex: Female
Breed: Pug / --Select-- / --Select--
Age: 3
Weight: 15 pounds
Good w/Dogs: Yes
Good w/Cats: Yes
Good w/Children: Yes
Housetrained: In process
Requested Donation: $250
Click on Peaches' picture to see more of her! MORE PICS COMING SOON!
Click here to display Peaches' intake record.
Peaches has something wrong in her cervical spinal cord that makes her walk a little funny. The best way to describe it is she prances like a pony. The vet called it a "hyper extended gait". X-rays were done, but the neurologist was unable to pinpoint exactly what the cause is without doing a very expensive MRI. Even with the MRI, it is probable that it is something that cannot be corrected. She is in no pain, so no further testing was recommended. It is possible that the only long-term issue may be eventual arthritis in her front legs because she overuses them.
Outside of her spinal cord issue, Peaches is a very healthy little girl. She is a little shy initially, but she is very sweet and petite and just loves to cuddle. She loves to run around and play with her puggy foster sister and foster humans. She was a puppy mill breeding female, and came to us with a fresh C-section incision. We cannot ascertain if she was spayed at the time of her C-section, and our vet has said that the only way we will be able to know is to wait and see if she goes into heat. Since she was in a crate most of her life, she is still working on her housetraining, but is making progress. The snow doesn't help much, as she is a typical puggy who doesn't like to have to venture out in the cold, but we continue working on it. She also is unable to navigate stairs very well, so needs to be carried up and down. Everyone who meets this little sweetheart just loves her. She is good with dogs, cats and children of all ages. If you are able and willing to handle any future special needs that this little doll may have, please email me directly at kat@buffalopugs.org.
Can't adopt Peaches, but want to help her? Click the below button to sponser Peaches today!
Peaches has been ADOPTED!