00294 - Quigley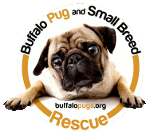 ID: 00294
Name: Quigley
Sex: Male
Breed: Pug Mix / --Select-- / --Select--
Age: 5 Yrs
Weight: 18 Lbs
Good w/Dogs: Yes
Good w/Cats: Yes
Good w/Children: No
Housetrained: Yes
Requested Donation: $250
Click on Quigley's picture to see more of him!
Click here to display Quigley's intake record.
This very handsome little guy is Quigley. He may in fact be a purebred pug, but we are not 100% certain of that. He looks pretty darn puglike, but he would not be the perfect 'breed standard' according to the American Kennel Club if he were purebred, so we decided to coin him as a mix just in case. This little guy is a lover of people. He loves to play and play and have his people around him alot of the time. His only downfall is that he is food and toy possessive and does not like it when people or other dogs try to take things from him. He may growl and he may nip at you if you do! Because of this, we would prefer that Mr. Quigley to be in a home that has no children or other dogs so that this behavior is never an issue. We think that anyone would be lucky to have this little guy who exhibits every bit of the fun-loving behavior that a purebred pug does!
Quigley has been ADOPTED!