00271 - Maggie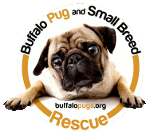 ID: 00271
Name: Maggie
Sex: Female
Breed: Pug / --Select-- / --Select--
Age: 12 Yrs
Weight: 15 Lbs
Good w/Dogs: Yes
Good w/Cats: Yes
Good w/Children: Yes
Housetrained: Yes
Requested Donation: $250
Click on Maggie's picture to see more of her!
Click here to display Maggie's intake record.
Maggie is a very wise old gal! She is 12 yrs old and looks every bit her age, but she is quite spry and very loving. She really enjoys human companionship and even gets on quite well with other dogs and cats. Maggie has no current health issues and her teeth recently have been cleaned and infected ones extracted. She has very nice breath now and seems more vibrant with those old yucky teeth now gone! If you have always wanted a senior pug, here is your chance and Maggie is one of the greatest most pleasant senior pugs we have seen!
Maggie has been ADOPTED!