00199 - Pugsley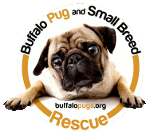 ID: 00199
Name: Pugsley
Sex: Male
Breed: Pug Mix / --Select-- / --Select--
Age: 3-4 Yrs
Weight: 18 Lbs
Good w/Dogs: No
Good w/Cats: No
Good w/Children: No
Housetrained: Yes - but will mark occasionally
Requested Donation: $250
Click on Pugsley's picture to see more of him!
Click here to display Pugsley's intake record.
Pugsley is a bit difficult to explain. We liken him to an old man even though he is only between 3 and 4 years of age. He has a grumpy demeanor and we are not certain why that is. He does not bite and is not aggressive, he is just simply grumpy and curmudgeonly. He would much rather be an only pet as he don't like to share anything (affection, toys, food, et. al.). We would rather adopt him out to a family with no children because it is also likely that they would antagonize him easily and without having to try too hard. Other than his grumpy old man-like behavior, this guy is a loving and loyal little guy... he attaches himself to one or two humans and thats all he wants out of life. We believe that Pugsley should attend a training course as we think that his grouchiness is just him always thinking he is in charge... he needs to know that he is not in charge, that his human owners rule the roost and that is what training will accomplish. Because of his need for training, Pugsley's adoption donation has been reduced.
Pugsley has been ADOPTED!!