00198 - Bogey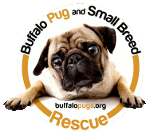 ID: 00198
Name: Bogey
Sex: Male
Breed: Pug / --Select-- / --Select--
Age: 5 Yrs
Weight: 25 Lbs
Good w/Dogs: Yes
Good w/Cats: Yes
Good w/Children: Yes
Housetrained: Yes
Requested Donation: $250
Click on Bogey's picture to see more of him!
Click here to display Bogey's intake record.
Meet Bogey! He and his housemate Bucca came into rescue together when they lost their only home due to allergies in the household. Bogey is sort of the anti-Bucca. He is obviously fawn rather than black, he is also 1 year older and alot more mellow of a guy than Bucca is. This couch potatoe would rather sit and watch TV than fuss and play. Bogey does suffer from chronic dry eye and has a dry nose... he will probably always need to be on eye drops once a day and his nose may need some attention every now and again (we suggest Kerasol for the nose on an as needed basis). Bogey is slightly overweight and is currently on a trim down diet and will need to remain on it for a while. Because of these slight issues, Bogey's adoption donation is slightly less than we normally ask for with a purebred dog. Nonetheless, we think this guy will make any adopter happy because he is loyal, loving and handsome!
Bogey has been ADOPTED!