00123 - Sugar Ray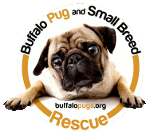 ID: 00123
Name: Sugar Ray
Sex: Male
Breed: Pug / --Select-- / --Select--
Age: 5 Yrs
Weight: 20 Lbs
Good w/Dogs: Yes
Good w/Cats: Yes
Good w/Children: No
Housetrained: In process
Requested Donation: $250
Click on Sugar Ray's picture to see more of him!
Click here to display Sugar Ray's intake record.
My name is Sugar Ray and I am a very dignified little fellow! I was surrendered by my pervious owner because I have problems adjusting to leashes and I tend to get a little too excited about food. I know that what I need is some training and I am not too old to learn. My foster mom says that I should go to a home without kiddies because they may not understand my possessiveness over food and my leash problems and may provoke me to turn into the Incredible Hulk... I really am a cutie and as long as my new owners understand that I need to be spoiled and trained to be an angel, than I am sure I will be a happy little boy again. My foster mom is also working on my potty training because even though I do know alot of basic training commands and I really am sure I was potty trained before, somehow, I just can not remember without being shown where to go when I am in a new environment. Im hoping that you will find it in your heart to give me a forever home, I really do not want to go through all of this again! Thank you!
Sugar Ray has been ADOPTED!