00089 - Sierra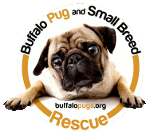 ID: 00089
Name: Sierra
Sex: Female
Breed: Pug Mix / --Select-- / --Select--
Age: 8-12 Months
Weight: 25 Lbs
Good w/Dogs: Yes
Good w/Cats: Yes
Good w/Children: Yes
Housetrained: Yes
Requested Donation: $250
Click on Sierra's picture to see more of her!
Click here to display Sierra's intake record.
Sierra's foster mom has been pleasantly surprised with the excellent behavior of this pup! She seems to understand quite a bit for her age... she initially made a mistake in the house upon arrival, but has since proven that she knows where she should be when she goes. She is calm for a puppy... walks very nicely on a leash, is a model princess in the car, and is attentive to instructions from humans. She gets along well with other dogs, but she will growl at any K-9s that act like they want to steal her treats! Sierra seems to have all of the best pug traits and none of the bad ones (most pugs are quite high strung, Sierra is not)... this girl will be your best friend if you let her, so applu today!
Sierra has been ADOPTED!