00029 - Sadie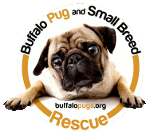 ID: 00029
Name: Sadie
Sex: Female
Breed: Pug / --Select-- / --Select--
Age: 1 Yr
Weight: 15 Lbs
Good w/Dogs: Yes
Good w/Cats: Unknown
Good w/Children: Yes
Housetrained: Unknown
Requested Donation: $250
Click here to see a VIDEO clip of Sadie in play!
Click on Sadie's picture to see more of her!
Click here to display Sadie's intake record
Update 9/13:
Sadie had a happy home for the past 7 months, however, her family has since been embroilled in a messy divorce situation. For Sadie's well being, she has been brought back into rescue. We are looking for the home of Sadie's dreams! This girl does not deserve another bad hand... are you the right person?
Original Posting:
Sadie is a 1 year old fawn female pug with her pedigree papers. Her family needed to give her up because they had difficulty in house training her. Anyone that already has pugs knows that this is sometimes a trying thing with the pug breed! As you can see from the photos in Sadie's album she is quite the looker and she has a double curled tail to boot! I will be continuing to work on her housetraining in the hopes that I can improve on it... Sadie is a sweet natured and somewhat mellow girl that enjoys sitting on laps and playing a bit with other dogs. She is apprehensive around new people and new dogs, but warms up within no time. GOOD NEWS: Sadie appears to be housebroken!
Sadie has been ADOPTED!