00026 - Gabriel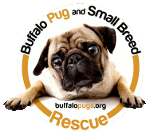 ID: 00026
Name: Gabriel
Sex: Male
Breed: Pug / --Select-- / --Select--
Age: 1 year
Weight: 20 pounds
Good w/Dogs: Yes
Good w/Cats: Yes
Good w/Children: Yes
Housetrained: No
Requested Donation: $250
Click Gabriel's picture to see more of him!
Click here to display Gabriel's intake record
Gabriel's owner regretfully had to surrender him because they are moving to an apartment. He is an adorable 1 year old and full of spunk. He loves to play and seems to be very good with dogs and cats. He's a typical sweet, nutty pugger!
Gabriel has been ADOPTED
Gabriel has found his forever home with a great new mom and dad, who have been waiting months and months for just the right baby to find his way to them. Jennifer and Bob are just thrilled with him and I'm sure that he will have them wrapped right around his adorable, curly tail in short order! He's already having a great time walking in his new neighborhood and charming everyone he meets. Congratulations Jennifer, Bob and Gabriel!