00016 - Sassy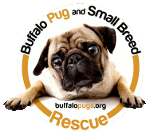 ID: 00016
Name: Sassy
Sex: Female
Breed: Pug / --Select-- / --Select--
Age: 6-7 years
Weight: 20 Lbs
Good w/Dogs: Unknown
Good w/Cats: Yes
Good w/Children: Unknown
Housetrained: Yes
Requested Donation: $250
Display Sassy's Intake Record
Sassy is a 6-7 yr old black pug that was surrendered to BP&SBR because the primary caretaker could no longer care for her. She was, however, very loved and will be greatly missed. She is a black purebred pug and is new to our rescue, so she is in the process of being evaluated. We do know she is very laid back and would do best in a fairly quiet home. We will be posting more information on her shortly.
Sassy has been ADOPTED!
Well our sweet little lady has found her forever home with another sweet lady and we couldn't be happier! Pam tells me that she and Sassy are getting along wonderfully and loving their life together. I'm sure that it was destined that these two find eachother and I'm thrilled to have been able to expedite it a little for them. Best of luck to you both, Pam and Sassy!! Be well and happy...