00002 - Eli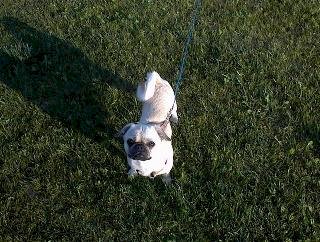 ID: 00002
Name: Eli
Sex: Male
Breed: Pug Mix / --Select-- / --Select--
Age:
Weight:
Good w/Dogs: Yes
Good w/Cats: Yes
Good w/Children: Unknown
Housetrained: Yes
Requested Donation: $250
Hello all! Eli is doing wonderfully. Every day I see an improvement with how comfortable he is in our home. He gets more and more relaxed everyday. The first few days he really would not lay down and relax, he seemed nervous, but he is great now. Very relaxed and comfy. Eli and Molly are getting along very good also, of course there has been some arguments, but what relationship doesn't have flaws...heehee. They lay on the floor together and chew on bones or play tug a war with a sock...When they are outside it is a
whole different story, they just run and run and play and play. on Sunday Tony and I went for a drive all the way around Seneca Lake and of course we brought the pups, they had a blast! We stopped a few times to take them for walks by the water and just to sit by the water. We stopped and had a cookout, they dogs had a hot dog. Eli just loved being in the car and letting the wind blow on his face, he was so funny, with his lips stuck
behind his teeth...I think Eli is adjusting wonderfully, he is starved for attention, he is always in your face trying to get a kiss, I think he is afraid he will be left alone again or will be transported somewhere else...I keep telling him that this is his permanent home and he has nothing to worry about, he has a family that loves him! Thank you again.....

Update 9/22 from adoptive family:
Hello all....I just wanted to fill you all in on Eli's progress. He is doing wonderfully. He is such a happy boy! He loves to sit with me on the couch and just chill out. He also loves to sit with Molly on the deck and look around the yard. If they see squirrels they run after them and bark and go crazy. Molly has taught Eli some bad barking lessons. They love each other so much, it is so cute. When they are outside, it is non stop playing from the time they walk outside to the time I tell them it is time to come in. Most of the time they look at me like Mom we don't want to come in. So they are outside a lot, trying to soak all this nice weather in until the yucky snow comes. I don't think little Eli's butt will be able to handle the cold. So they will have to resort playing inside. They watch out for each other, they have to know where each other are at all times it is so funny! on Wednesday he goes to the vet, just to get checked and get him any shots that he needs. Eli also does pretty good with my cats, he does chase after them often, but he has not done anything to hurt them and I don't think that he will, I still keep an small eye on him though. He also had no potty accidents in the house, which is wonderful!!!!! My mom and I went shopping yesterday at Petsmart and bought Eli a new collar and leash and bought him a harness for when we go for walks or on trips. We also bought Eli and Molly new matching beds for their crates. I love my little Eli so much, thanks again for choosing us to be his family.